Welcome to Greenworld Innovations, makers of environmentally responsible products like De-Oil-It a cleaner and degrader of hydrocarbon (oil, fuel, and oil) based pollutants.  Check out http://deoilit.com to learn about this non-hazardous, low-toxicity solution recently tested for the EPA's National Contingency Plan (NCP) and soon USDA's BioPreferred product list.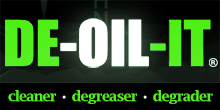 Looking to be a distributor, have a question or have comments? Send email to info@gwi.world
Comments or questions are welcome.
Greenworld Innovations is focused on delivering environmentally responsible products designed for a variety of uses while being eco-system friendly.
One such example is De-Oil-It, a non-hazardous solution activated by water to clean, degrease, and degrade ("break down", "decompose") OIL, FUEL and Grease. De-Oil-It was just tested for the EPA's NCP list, scoring well over 100ppm for the LC50 test placing De-Oil-It as only 7 of 162 NCP list entrants with this low toxicity. And beyond low toxicity, De-Oil-It works!!
Greenworld Innovations is the international master distributor of De-Oil-It. We are looking for distributors, dealers, and buyers. Distributor agreements require initial inventory purchase and maintain product levels. If you are interested in being a dealer we will connect you to one of our distributors, or help you establish your niche territory.
Want to purchase De-Oil-It? For purchases up to 5 gallons please visit http://www.tampabayyachtmasters.com/shop-by-manufacturer-de-oil-it/
For purchases 55-gallon drums or 275-gallon totes or tanker volumes contact one of our distributors: http://deoilit.com/de-oil-it-distributors-where-to-buy/
Of course we are available to assist you for your purchase needs, call us at 407-574-3898..
We are also interested being a master distributor for your environmentally responsible products (and services). Bioremediation, water way protection, and land preservation are top on our list of interests.
Finally, we are one of a few initial companies promoting our Environmental Protection Program, a platform to engage in sharing your eco-friendly product  information in an educational manner to help consumers, businesses and government to become more aware of issues / problems and better ways to solve pollution, remediation, and cleaning. We are focused on water ways, land and air. We are promoting the Environment Protection Program (EPP) to show that conservation is possible, not overwhelming, is understood independent  from political views, and approached as simply as common sense plus no non-sense.
For more information go to:  http://deoilit.com/environmental-protection-plan/